An organic milk producer in Guerlédan (Côtes-d'Armor) with 70 dairy cows, GAEC de Carmoise recently acquired our Opticool solution. From the very first months of use, Nathalie Bertho and Gildas Le Fresne noticed a significant reduction in their electricity consumption. Today, the two partners share their experience and views on our Opticool milk cooler.
For many years now, Nathalie Bertho and Gildas Le Fresne, partners in GAEC de Carmoise in Guerlédan (Côtes-d'Armor), have been investing in equipment to save energy on their farm. They have introduced various solutions to reduce their energy consumption, including a milking robot with a milk pre-cooler and a photovoltaic power plant. This autumn, they replaced their ageing milk cooling tank with our Opticool solution. After a few months of use, they have already noticed the effect on their consumption.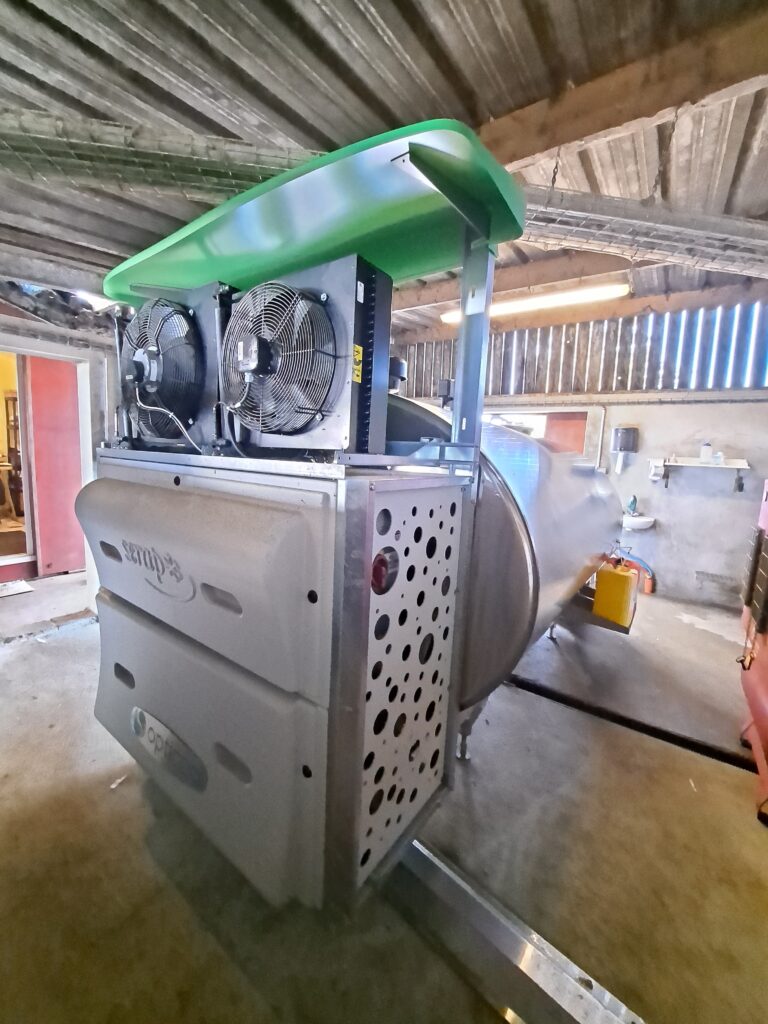 Opticool: our milk cooler with an excellent environmental and economic performance
Nathalie and Gildas decided to renew their 5,200-litre milk cooling tank. To achieve their energy reduction goal, they chose Opticool: the SERAP Group's latest cooling innovation. The unit was installed in early autumn 2022.
"Reducing electricity consumption on our farm is a priority for us. Opticool's characteristics really meet our requirements, as we save on energy consumption and have a lower carbon footprint, while the quality of our milk is as good as ever,"

say Nathalie and Gildas.
Once the cooler was installed, the two partners could monitor changes in their consumption thanks to an integrated electricity meter. The results were impressive! 7 Wh/litre of milk over the first two months of operation, i.e. a gain of almost 70% compared to a conventional milk cooling tank without additional energy saving equipment.
An extra feature is a heat recovery system integrated into the cooling unit. This system preheats the water used to wash the milking robot, thus saving many further kilowatt hours.
GAEC de Carmoise received a subsidy for 40% of their investment via the Brittany Region's PCAEA 412 call for projects. Feel free to contact us to find out if aid is available in your region.