The trade show season is in full swing! Following SPACE, the SERAP Group will be delighted to meet you at the Sommet de l'Elevage, and then at EuroTier in Germany, which sees the international launch of Opticool
The SERAP Group at the Sommet de l'Elevage: solutions that meet farmers' needs
The Sommet de l'Elevage is a key event in the calendar for professionals in the dairy sector. Our sales teams will naturally be there to meet you and answer questions about our entire range of milk coolers and equipment.
Opticool: our milk cooler with with highly effective environmental and economic performance
The Opticool is a long-term solution for dairy farmers now faced with rising energy costs. This equiment is available on new milk cooling tanks or as a retrofit on your existing tank (all brands, all models). If you install Opticool at your farm, you can reduce your energy consumption by up to 70%. So the savings generated ensure a real return on investment.
Other solutions at the SERAP Group stand
Alongside the Opticool milk cooling solution, the SERAP Group will be exhibiting its ECOTEMP heat recovery unit. This recovers the energy emitted by the refrigeration unit condenser and uses it to heat domestic hot water. ECOTEMP is a partial alternative enabling substantial savings on the production of domestic hot water: the other major consumption item on a dairy farm.
The MyRAINBOW application, unveiled for the first time at SPACE, will be demonstrated at our stand. MyRAINBOW enables you to remotely monitor your cooler in real time, and program alerts so that rapid action can be taken if necessary.
Opticool launches its international deployment at the EuroTier show
A few days after the Sommet de l'Elevage, we head to Hanover in Germany for the EuroTier trade show.  Well-known as the leading international livestock show, it welcomes over 160,000 visitors at each edition. So it's the ideal venue for the SERAP Group to launch its innovative Opticool.
German breeders are also facing environmental and above all economic problems, with the sudden rise in electricity prices announced for the end of the year. So our teams will be explaining to German livestock professionals present at EuroTier why Opticool is a reliable, long-term and efficient solution.
EuroTier is an opportunity for the SERAP Group to once again demonstrate the quality of its know-how and assert its position as global leader in milk coolers. In addition, the Group is aiming to position itself as the world specialist in energy saving solutions for dairy professionals, through innovative solutions like Opticool.
---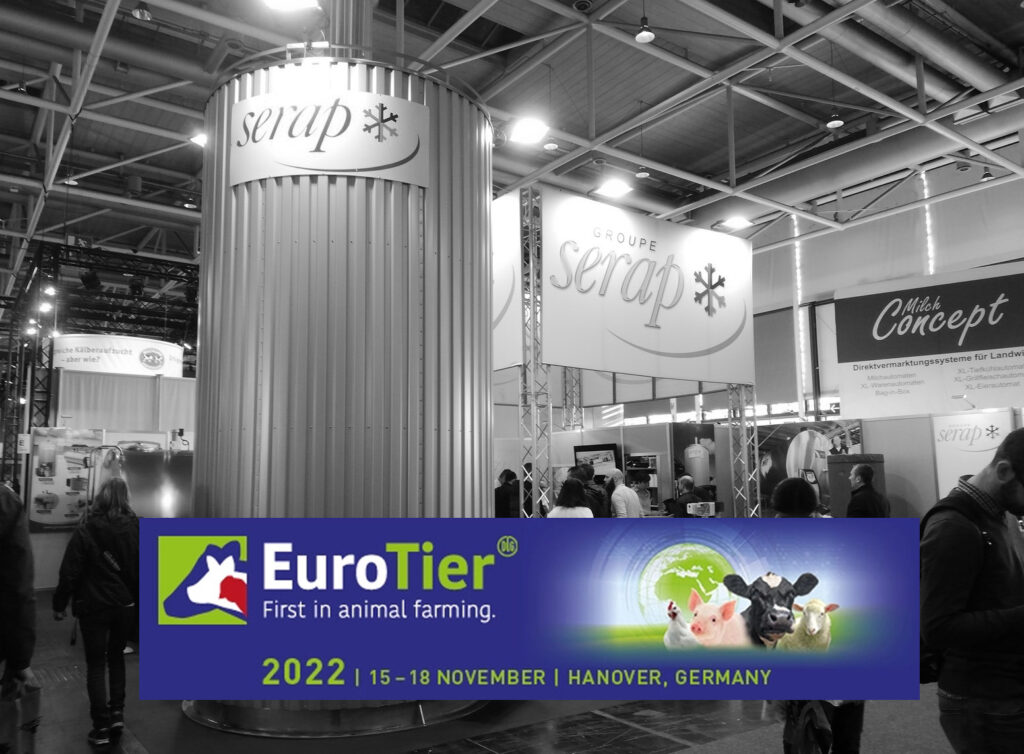 Practical information
To find us easily at these two major events:
Sommet de l'Elevage, Clermont-Ferrand (France): from Tuesday 4 to Friday 7 October; Hall 2, Stand D08
EuroTier, Hanover (Germany): from Tuesday 15 to Friday 18 November; Hall 13, Stand E42
We very much look forward to meeting you at both events. Come and visit our stands: our teams will be delighted to have a chat with you!
---