Farmers are faced with many economic and environmental challenges today: ever higher energy and production costs, and the need to reduce the carbon footprint and maintain an efficient, sustainable French dairy industry. SERAP assists them with its latest innovation Opticool: an energy-efficient milk cooler, designed to protect the environment and ensure high performance in dairy farms today and in the future.
Launched as a continuation of the "Tank 2020" research project, the Opticool milk cooler is designed to offer dairy farmers a new solution for effectively reducing the electricity consumption and environmental impact of their farms.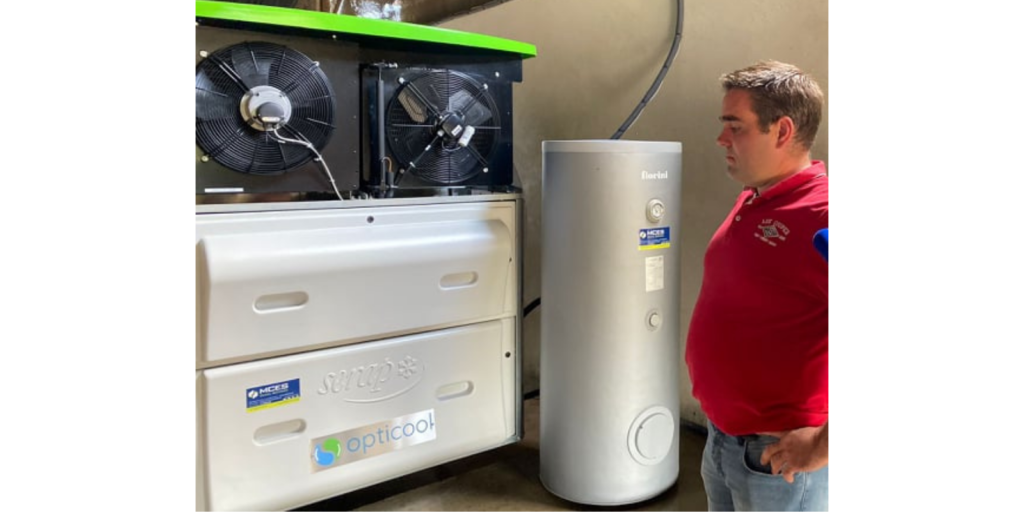 Given the fact that on a dairy farm nearly 70% of a milking unit's energy consumption comes from cooling milk and producing hot water, and that many installations are not optimised (poor ventilation; no pre-cooling or heat recovery; old generation refrigerants still in use, etc.), the SERAP Group wanted to design an innovative milk cooler that would drastically limit its own electricity consumption and environmental impact. Opticool is a low consumption cooler, thanks to its variable power and smart regulation. It is contained in a cowl, making it possible to install the refrigeration unit outside (providing ventilation), features integrated heat recovery for producing hot water, and uses a new generation refrigerant with low environmental impact.
Too often ignored, heat recovery can save up to 50% on water heating
As well as the energy used to cool the milk, the production of hot water required for cleaning the tank and milking machine also consumes a great deal of energy. Paradoxically, the cooler itself releases a lot of heat, which often goes to waste. This is a point that is too often overlooked, but is naturally incorporated into the design of Opticool.
"Today, too few milk coolers are equipped with heat recovery systems. As a result, a significant amount of the heat extracted from the milk by the cooling units is lost, when it could be partially recovered in the form of "free" hot water production, thanks to the heat recovery unit," says Patrick Person, Marketing Manager for Milk Coolers at SERAP. "Through its integrated heat recovery system, Opticool raises the temperature of the water before it enters the water heater, which not only enables significant savings on the hot water production but also increases the quantity available by preventing the cooling of the water heater's contents due to incoming cold water."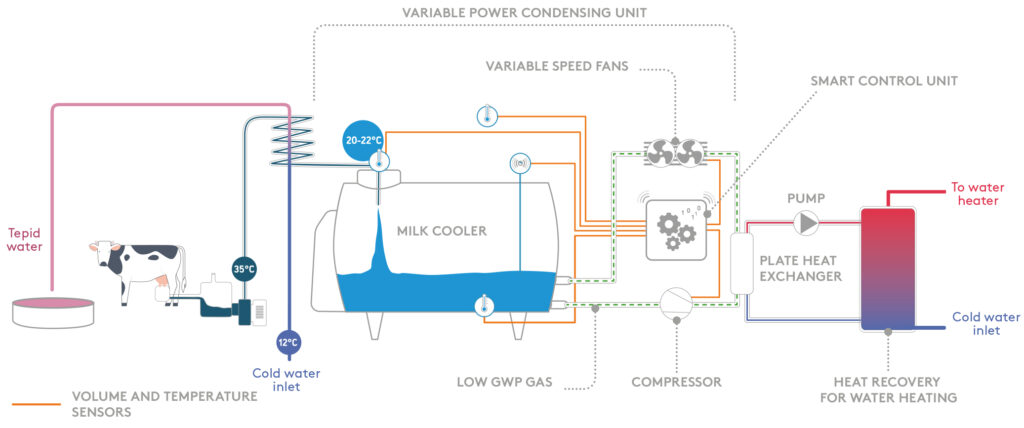 A reduction of over 50% in terms of the carbon footprint
To reduce a milking unit's carbon footprint, the Opticool cooler works with a low-GWP (Global Warming Potential) refrigerant. A new, more environmentally friendly fluid, which decreases greenhouse gas emissions and thus reduces the carbon footprint by over 50% compared with standard coolers.
Farmers who have tested Opticool are already seeing the benefits of this innovation:
Responsible design and energy-efficient operation enable this new generation cooler to pay for itself rapidly.
You too can protect the environment by reducing the energy consumption of your milking unit with Opticool! Contact us now via this dedicated form or get in touch directly your dairy to get help for your project and more information.